The State of Pennsylvania was represented well at the New Jersey Open IRT Tier 4 event last weekend not only in presence, but in performance as well!
Twenty Five of the 167 participants were from the state including 3 Board members. The tournament featured two of the top players from the IRT, Mario Mercado and Sebastian Franco. Also, many of the top players from around the east coast, as well as Pennsylvania participated.
While the Pro singles ended as most would have guessed with the two pros facing off, the Open Doubles final was arguably the highlight of the tournament, as Pennsylvania's own Travis Aldinger and Seth Parker took Mercado and Franco to a tiebreak, losing 6-15, 15-12, 4-11. Watch the video I took here – Travis/Seth vs. IRT Pros in Warren, NJ
Additionally, Derrick Girouard had a great showing in the Men's IRT consolation bracket, as well as the Men's 30+ Singles, finishing second in both divisions, after a long three days of matches.
Visit the PSRA Facebook page for photos and videos of the event. Visit the R2 page for more results of the tournament.
Here is a list of the rest of the weekends winners: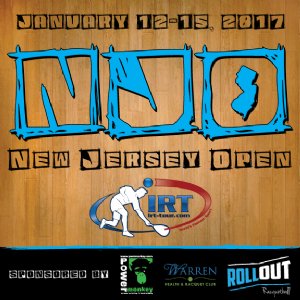 Tyler Aldinger – 1st Place Men's D
Linda White – 2nd Women's A
Marty Hammond – 3rd Place Men's 30+
Dan Spiro / Hal Spiro – 3rd Men's C Doubles
Joe Kelley / Sam Kelley – 3rd Men's Open Doubles
Dan Spiro – 2nd Place Men's C
Rob Fehnel – 3rd Place Men's C
Upcoming regional events …
Wintergreen in Laurel, Maryland
Delaware State Doubles (Same weekend as Wintergreen unfortunately)
Spring Shootout – York, PA (Link will be added later 4/1/17)
– Mike Spiro